Brand Image

HOW DOES BLACKSMITH BRAND IMAGE IS GROWN DURING THE YEARS
1996 - 2010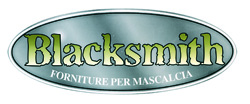 The shaded gray oval shape with the "Blacksmith" shaded green signature in the middle borns in 1996. The pay-off on the bottom of it says "Forniture Per Mascalcia", the Italian translation for "Farriers Supplier". This first logo was used to identify the company into the Italian market but also in the foreign one. A stylized version was printed over all the Blacksmith products.
This Logo was succesfully used until the end of 2010.
---
2011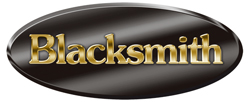 From the beginning of the year 2011, we have decide to substitute the Logo that succesfully accompained us for 14 years. The exigency to give an external appealing renovation, extremely related to the internal renovations we had, combined with the need to differentiate what is Blacksmith in Italy and what is Blacksmith abroad, let born those 2 new brands.
The first one on the left, represent only the export/manufacturing field of our company. It has a related family feeling with the old one, steel oval shaded, it is now more clean and fresh to be easy recognized in every situation. A combination trough the future and the innovation and the past, to don't forget where we are from. The secondo one to the right, is a new and fresh brand to represent the Italian distribution of farrier equipment, a stylized pair of shoes inscribed into a square shape. The name is obviously Blacksmith, but the pay-off is now changed: "Mascalcia Italiana", that means Italian Farriery, a connection through tradition and innovation.